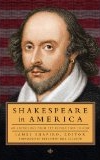 James Shapiro is the editor for this collection of American writing on Shakespeare from 1776 to the present day. He includes his own marvelous and substantive introduction, along with a foreword by President Bill Clinton.
Shapiro is my favorite Shakespeare scholar. I have the hardback editions of his A Year in the Life of William Shakespeare, 1599, and Contested Will. Both are well marked and enjoyed, as is this book (as I work my way through it.) To my collection I recently added the newly published (2015) The Year of Lear ~ Shakespeare in 1606 and I can't wait to dive into it.
Shakespeare in America ~ An Anthology from the Revolution to Now includes fascinating pieces from such as John Adams, Washington Irving, Poe, Emerson, Melville, Dickinson, Lincoln, Twain, John Wilkes Booth, Whitman, Henry James, George Santayana, Frost, T. S. Eliot, James Thurber, Cole Porter (of course, Broadway's Kiss Me Kate!), Sam Wanamaker, and even Isaac Asimov, as well as many more. read more…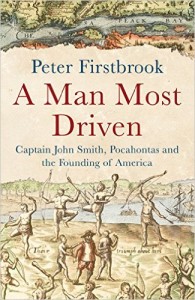 This is a great and valuable read for anyone, but as an author, researcher, and historian myself, I absolutely loved it. And I greatly appreciate all the hard, thoughtful, thorough, and fascinating work done by Firstbrook, even though I had to wince through a few gruesome (but very real) events. Wow, should we value the sacrifices of those early settlers of America!
As a documentary type of fellow, Firstbrook did his own out-of-the-way traveling to see just how much of the legendary and almost mythical John Smith's story he could verify. You may well be surprised. I now have a much, much clearer view of the deservedly famous Captain Smith, as well as a broader understanding of Europe, England, and America in the late 16th and early 17th Centuries. This is no dry history. This is an amazing and entertaining story, told well, and well documented. read more…