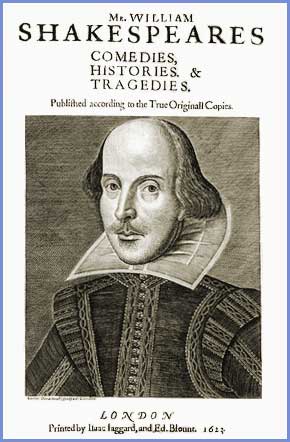 The 1623 First Folio Collection of Shakespeare's Plays
The Great Bard, as Shakespeare is known, died in April 1616. But it was the year 1623 before the First Folio was put together, collecting and saving ~ for then and now ~ almost all of his plays (36 total), 18 of which had never been printed and, according to scholars, would almost certainly have been lost. It begs the question ~ would Will have then become "Will"?
We owe the preservation of Will's work to two of his fellow actors, John Heminge and Henry Condell, who carefully oversaw the publication. Without them, we might never have known many of our favorite plays. It would have been a world devoid of As You Like It, Julius Caesar, Macbeth, The Taming of the Shrew, Twelfth Night and more. (How different high school would be!!) By the way, John's surname is spelled "Heminge" in the Folio and pronounced "Heming" by scholars featured on the Folger website. But, on the Folger website and elsewhere, you will see it spelled "Heminges." Consistent spelling was not a concern during Shakespeare's lifetime. He and most others often varied the spelling of their own names!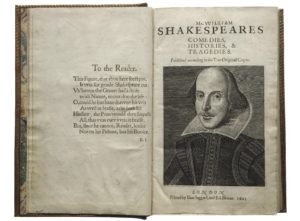 Edward Blount and William Jaggard joined the two actors in the formidable project, and Jaggard's son Isaac did the printing of the some 1,000 copies (Britannica.com estimate) or perhaps only 750 original copies (Folger.edu). Of the surviving 233, the Folger Library possesses 82. During 2016, one location in each of the 50 U.S. states, D.C., and Puerto Rico hosted one of the Folger's folios.
Heminge and Condell organized (some say "shoehorned") the plays into Comedies, Histories & Tragedies. The two actors obviously thought that was a good idea ~ perhaps it was an arrangement more important to the audiences of that time ~ but it drives today's historians crazy (!), because it obscures the date of writing for a number of the plays. Historians would much rather they have done it in order of writing, with date attached! But then, we need to be grateful they did it at all.
Why did these men undertake this "care and pain"? Besides the interesting fact that Shakespeare himself had never any inclination to do so:
"We have collected them…without ambition either of self-profit, or fame: only to keep the memory of so worthy a Friend & Fellow alive, as was our Shakespeare…"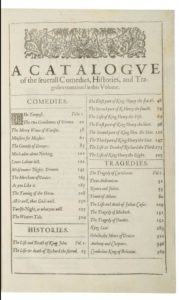 Note the "our Shakespeare." If you have ever watched British comedies (or other shows), you will probably recognize the term as one of personal affection, such as regarding a family member or close associate. In Open All Hours, it was always, "our Granville." Heminge and Condell had spent many years of their lives, day upon long day, rehearsing, performing, and traveling with William Shakespeare. Along with the famous dramatic actor, Richard Burbage, another member of the company that was called Lord Chamberlain's Men (later King's Men), Heminge and Condell were named in Shakespeare's will. They were more than colleagues ~ they were nearly-lifelong friends. They wished that Shakespeare (yes, the real guy from Stratford-upon-Avon, the one they knew extremely well) could have lived to oversee his own writings, but, "to the Great Variety of Readers," they wrote:
"…we pray you do not envy his Friends, the office of their care, and pain, to have collected & published them [the plays]…before you were abused with diverse stolen, and surreptitious copies, maimed, and deformed by the frauds and stealths of injurious impostors…"
Such a carefully edited collection, overseen by those who knew the originals firsthand, was imperative to save the life's work of William Shakespeare ~ and their own lives' work as actors.
Thanks to the Folger Shakespeare Library (Washington, DC), we can all go online and read the entire, original Folio ourselves! Go here: https://www.folger.edu/the-shakespeare-first-folio-folger-copy-no-68#page/To+the+Reader/mode/2up and you'll find it waiting. It's wonderful! And you'll get the hang of it fairly quickly. An s looks like a scrolly f. An f adds a short crossbar. An i can be a j, or y, or i. Fear not! It's fun!
Go here to read a lot more about the Folio ~ https://www.folger.edu/publishing-shakespeare/first-folio. And look for my own "short subject" on The Men Who Saved Shakespeare. I'm working on it, as it is one of those "providential decisions" in history that fascinate me.
Images used by permission of the Folger Shakespeare Library under a Creative Commons Attribution-ShareAlike 4.0 International License.
Save
Save
Save
Save
Save
Save
Save
Save