History of any age has fascinated me since elementary school. When reading of another time, whether 80 or 800 years ago, I have often tried to imagine what it would be like to snap my fingers and travel back to see exactly what it was like for those people who laid our foundations and blazed the trails that brought us here. What did it look like? What really happened? What did they truly think and feel?
Or, what would a person I was studying think if the snap brought them forward in time, and I could say, "Look! See what has happened!" I have very often wondered what Shakespeare's reaction might be! That would be interesting!
Braving the New World is the first book of my planned, 5-book adventure through American history and culture, and the European and especially British history that created us, gave us what we have, and made us who we are today. How did England come from far behind to eventually dominate the race for the New World? What tip-the-scale details could have turned a drastically different page in our history? And who would we then be?
The savory stew of history demands all of its spicy ingredients ~ not just dates, events, and leaders, but the rich, full context of culture, literature, religion, inventions, occupations, education, daily life, entertainment, and many individuals not so well known who deserve our attention. And it demands the best of our imagination. As I began researching the recipe for this entertaining tale of history and fiction, I realized that in the year 1616 Captain John Smith, Pocahontas, and Squanto were all present, at the same time, in what was a relatively small city of London, and all were major actors in the drama of British colonization. Into the pot of genuine events, toss a very real merchant named Slany, a very fictional mouse with a Shakespearean manuscript, and a very real bookseller named Clerke, stir vigorously with imagination and ~ what could have happened? How might they ~ and how did they ~ interact to tell us the tales of their time? And so on, through the next three and a half centuries. Writing this is hard ~ but it's fun!

This series, Tales of the Lost Manuscript, takes preteens and young teens on a ride-alongside, personal and conversational journey with both historical and fictional characters, creating that back-in-time experience to the best of my modern-day ability and resources. The premise began with one of my musical comedies, A Shakespearean Tale!, which I wrote and first directed in 2011. It takes a special manuscript from 1616 London to 1955 New York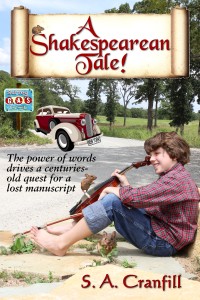 City and 1955 Stratford Corners, Alabama, with a new twist on The Taming of the Shew. Preparing for a second production in 2012, I decided to test it as a novella. I used that narrative version to introduce the story to my cast. It worked ~ even convinced one previously uninterested young fellow to join his older sister in the cast. [He ended up carrying two major roles, has been in all six of our subsequent community theater productions, and has become an accomplished leading man. A 2014 photo of him appears on the cover of Book I.]
I thought about following the story of the "lost" Shakespearean manuscript featured in the Tale, from 1616 to 1955, guarded at first by a family of very-British mice who secretly served the Master Shakespeare, and carried through the centuries by their historically active progeny. What a fun way to tell the story of American history, in a personal way! So I started making notes and began writing in earnest in the summer of 2015. Book I is outlined to take us up to the very early 1700s.
Another unexpected, early realization from this project has been how often, and in what interesting ways, the life and works of William Shakespeare enter into the story. I have been a fan of many of his plays since my college Shakespeare courses, but I am most interested in the man from the perspective of a fellow playwright. That's another series-in-process, to be featured on this website.
So, I conclude that creativity applied to dog-digging research brings history alive through the ignited imagination of a reader pulled into the story. Of course, that's why good historical fiction is so effective, satisfying, and popular. This is a quite a big adventure for me. I hope that many young readers (and perhaps some older readers) will join my journey.