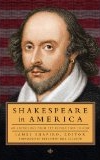 James Shapiro is the editor for this collection of American writing on Shakespeare from 1776 to the present day. He includes his own marvelous and substantive introduction, along with a foreword by President Bill Clinton.
Shapiro is my favorite Shakespeare scholar. I have the hardback editions of his A Year in the Life of William Shakespeare, 1599, and Contested Will. Both are well marked and enjoyed, as is this book (as I work my way through it.) To my collection I recently added the newly published (2015) The Year of Lear ~ Shakespeare in 1606 and I can't wait to dive into it.
Shakespeare in America ~ An Anthology from the Revolution to Now includes fascinating pieces from such as John Adams, Washington Irving, Poe, Emerson, Melville, Dickinson, Lincoln, Twain, John Wilkes Booth, Whitman, Henry James, George Santayana, Frost, T. S. Eliot, James Thurber, Cole Porter (of course, Broadway's Kiss Me Kate!), Sam Wanamaker, and even Isaac Asimov, as well as many more.
Of particular interest to us in America in this politically consequential year of 2016 are the thoughts and habits of our country's foundational Adams family. Both Abigail and John Adams quoted freely from Shakespeare's works. Son (and future president) John Quincy recalled the pocket edition of Shakespeare kept by his mother in the nursery-library.
…at ten years of age I was as familiarly acquainted with his lovers and his clowns, as with Robinson Crusoe, the Pilgrim's Progress, and the Bible.
Shapiro quotes our second president, John Adams, as saying that Shakespeare was the…
…great Master of every Affection of the Heart and every Sentiment of the Mind as well as of all the Powers of Expression.
In January of 1805, Thomas Jefferson looked to a second term as president. Meanwhile, John Adams, former friend turned rival, harbored "fears for the young republic," writes Shapiro, as it was "threatened at the time by factionalism." Factionalism is nothing new in American history and politics. In a letter that month to son John Quincy, John Adams shared that he had been "uncommonly engaged and interested" in Shakespeare's historical dramas and had almost completed his second read-through of those plays that enlivened English history. Adams found that anyone…
…if he can keep his Gravity and his attention from being diverted by the Gaiety and Drollery…will find one of the most instructive Examples for the perusal of this Country.
The Adams family found great value in the reading of Shakespeare, from the nursery to the nation's halls of power. Almost 60 years later, Abraham Lincoln would "carry a copy of Shakespeare's works around the White House," says Shapiro. In another 30 years, in 1895, U.S. Senator from Massachusetts Henry Cabot Lodge noted…
…that the earliest English settlers, both in Virginia and the New England colonies, had brought Shakespeare's language with them and that expressions London snobs now deride as 'Americanisms' can be found in Shakespeare. [Shapiro]
At the turn of the 20th Century, Lodge was greatly concerned about immigration and that education and English were crucial to Americanizing immigrants. Immigration is another issue that is not new to American politics.
Since my current series of books involves Shakespeare, and I taught a Shakespeare class to homeschoolers, Shapiro is an important reference for me. What is especially nice is that I thoroughly enjoy his writing style, as well as appreciate his scholarship. Thank you, Professor Shapiro. Your work is greatly appreciated. And duly referenced.
Save
Save
Save
Save
Save
Save